Are you eager to refine your culinary skills? Dive into our selection of the finest pastry classes in Bordeaux.
Welcome to the delectable world of
pastry
in
Bordeaux
! If you're in search of the best workshops and pastry courses in the region, you're in the right place. Our selection highlights the most tantalizing culinary training experiences in Bordeaux. Whether you're a passionate pastry enthusiast or simply eager to learn the secrets of the perfect dessert, these courses are tailored to satisfy your sweet curiosity. From mastering fundamental techniques to learning from renowned chefs' tips and tricks, get ready for a gourmet journey that will delight your senses and fuel your creativity. Here's a delightful selection of pastry workshops in Bordeaux.
Explore the Iconic Canelés Bordelais with 3 Recipes
At Elite Cooking School, you'll delve into Bordeaux's sweet treasure during this dedicated
canelé
workshop. In just two hours, guided by an expert pastry chef, you'll be led through every step of preparation using a traditional
recipe
that has stood the test of time. What's more, unleash your creativity by exploring daring variations that add a modern and original touch to the classic canelés.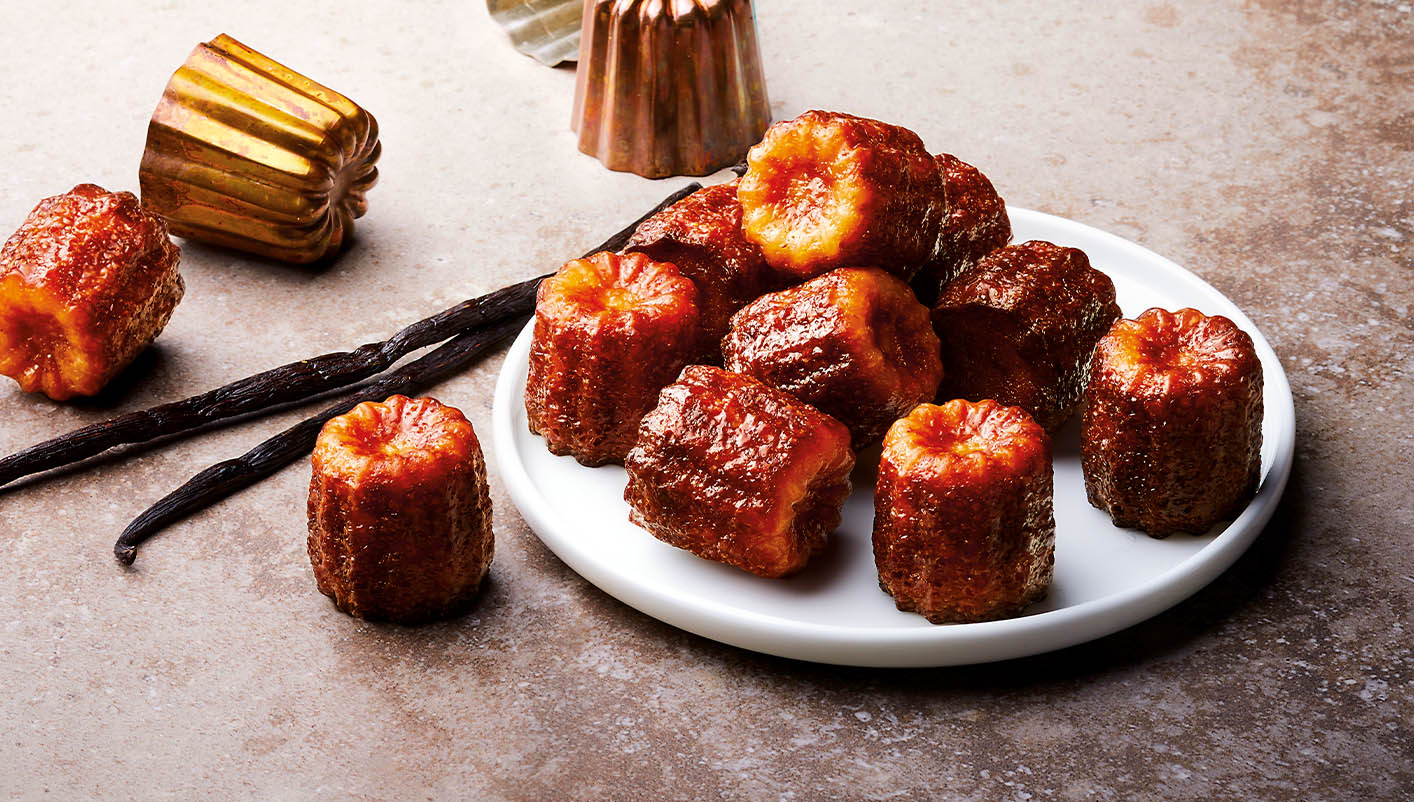 Imagine Canelés with Star Anise and Bell Pepper, subtly combining flavors and spices, or Panacotta and Vanilla Canelés enhanced by an exquisite duo of mango and pineapple. An absolute must-attend pastry workshop if you're in Bordeaux.
Lemon Pastry Workshop
Immerse yourself in the refreshing world of lemons in this dedicated pastry workshop in Bordeaux. Discover its incredible potential to infuse an explosion of flavors into your sweet creations. The lemon, both delicious and beneficial for health, will bring dynamism to your desserts.
At the heart of this workshop, two iconic recipes come to life: the lemon meringue tart and the lemon cake. You'll be guided step by step in crafting the tart crust, mastering the art of perfect piping, and revealing the secrets to achieve a beautifully fluffy Swiss meringue.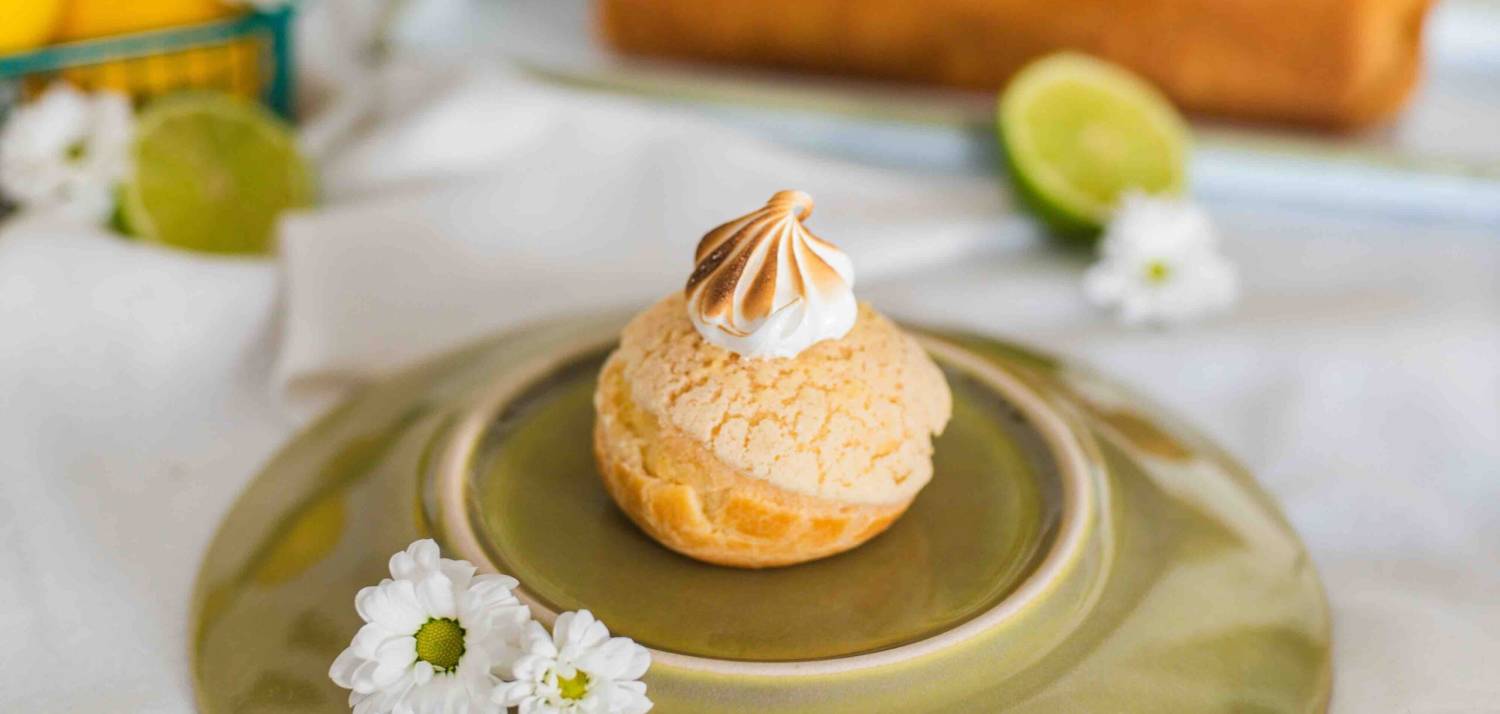 The program of this workshop is brimming with expertise and passion. Learn to tame pastry preparation, create a crispy craquelin that enhances your tart, and craft a nutty lemon cream that's both creamy and fresh. These two delights are integral to the
French
sweet repertoire, and you'll have the satisfaction of mastering them perfectly. Let yourself be guided by our pastry experts and treat your taste buds to a memorable and tangy experience. A pastry workshop for lemon aficionados!
Parent-Child Pastry Class
With this parent-child pastry workshop, get ready for a deliciously fun family experience! This parent-child pastry workshop in Bordeaux opens the doors to a chocolatey world. Let yourself be guided through a sweet and playful adventure that will delight both young and old.
Upon arrival, you'll be welcomed with enthusiasm, and your Chef will introduce you to cupcake recipes and workshop objectives.
With everything you need at your fingertips, you'll dive into making irresistible chocolate cupcakes. Discover the secrets to create a moist base that will enchant the palates of the whole family.
The cupcake decorating step will be even more fun, as you'll learn the art of piping using a pastry bag. Let your culinary imagination run wild, creating delicious swirls on your cupcakes, ready to be elevated by our homemade Oreo cream. Your children will surely love this gourmet experience!
The Crème de la Crème of French Pastries in 3 Recipes
Looking to deepen your knowledge in multiple recipes at once? This pastry class is perfect for you!
Discover the enchanting world of French pastry through this captivating course in Bordeaux. Immerse yourself in the art of pastry by learning the secret techniques to master France's iconic specialties. On the menu of this culinary adventure, we offer you the chance to create gourmet delights that will transport your taste buds:
– Lemon Meringue Tart: Learn how to concoct a delectable lemon tart, balancing the vibrant acidity of lemon with the light sweetness of meringue. Master the creation of a crispy crust and the technique for perfectly golden meringue.
– Chocolate Soufflé Tart with Caramel
Sauce
: Dive into the world of chocolate by creating a chocolate soufflé tart, accompanied by a creamy caramel sauce. Discover the tricks to achieve a fluffy and airy soufflé, enhanced by the richness of chocolate and the sweetness of caramel.
– Bordeaux Canelés: Embark on a journey through the cobbled streets of Bordeaux by crafting the delicious canelés. Uncover the secrets of this iconic pastry, combining a crispy exterior with a tender interior infused with vanilla and rum.
Guided by a professional pastry chef, you'll learn to handle ingredients with precision, master cooking techniques, and create visually appealing presentations. All of this in a friendly and inspiring atmosphere, perfect for exchanging ideas and discoveries.
This pastry class in Bordeaux is more than just a cooking lesson; it's an invitation to dive into the soul of French gastronomy and to acquire the skills to delight your loved ones with creations worthy of the finest patisseries.
Paris-Brest Pastry Workshop
Is your weakness Paris-Brest? Immerse yourself in a mouthwatering culinary adventure by joining this pastry workshop dedicated to the famous Paris-Brest. Join this gourmet and convivial workshop where you'll discover all the secrets to create these iconic delights with a personal touch.
Indulge in the magic of choux pastry, adorned with a crispy craquelin, hazelnut mousseline, and exquisite homemade praline.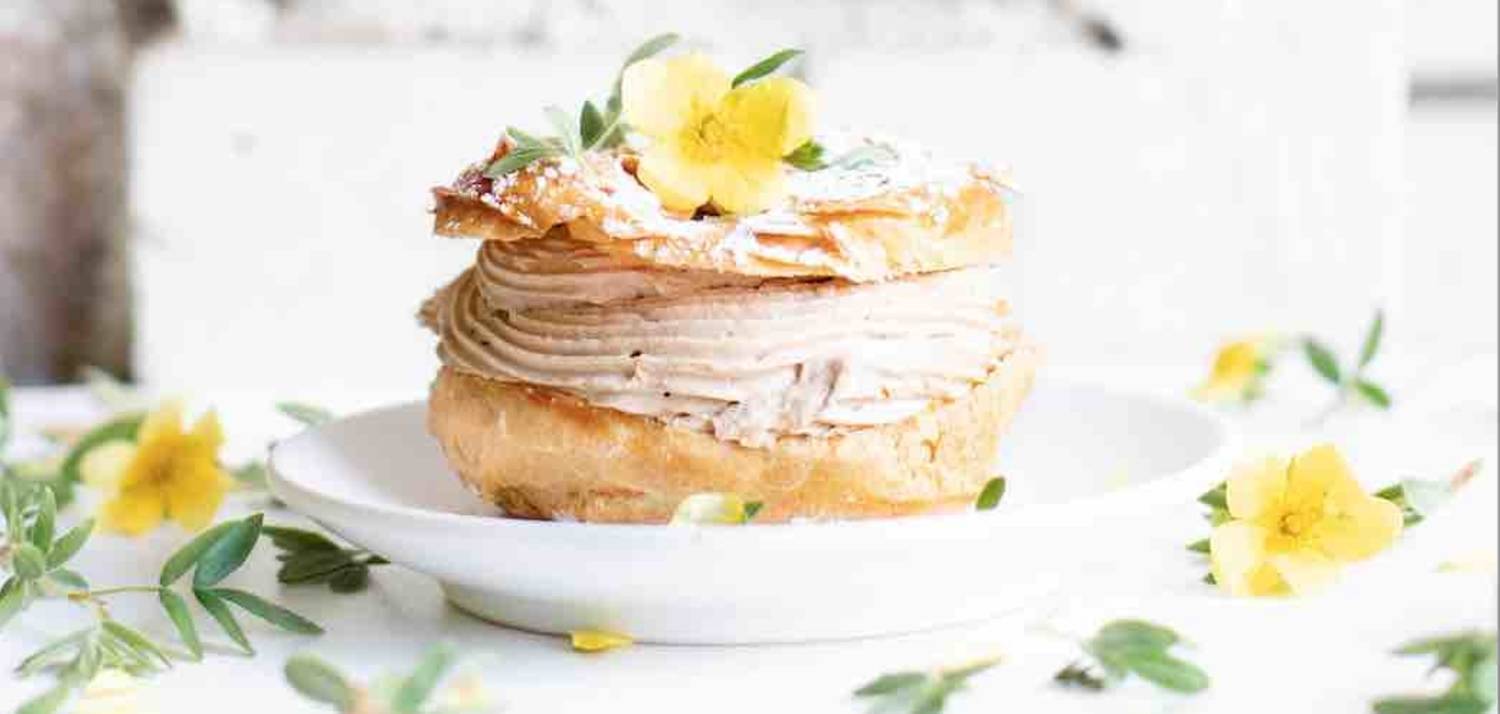 Throughout this pastry workshop, you'll be initiated into the art of crafting perfect choux pastry, mastering the art of piping, and shaping impeccable choux. You'll also learn to create a deliciously crispy craquelin, an element that will elevate your creations to a higher level.
Guided by an experienced pastry chef, you'll craft a hazelnut mousseline that offers a refined flavor and a creamy texture to your choux. You'll have the opportunity to create Paris-Brest while discovering the secrets of homemade praline, a versatile skill you can use in various creations, from choux pastries to delectable tarts.
Chocolatier Experience
This isn't your typical pastry class; it's an experience all about chocolate for the most chocolate-loving enthusiasts!
Explore the enchanting world of chocolate in this two-hour organic chocolate workshop. Dive into the creation process, from bean to bar, in an immersive experience that will unveil all the secrets of this exquisite delight.
Discover the historical roots of chocolate, understand each step of its production, and grasp its unique subtleties. Guided by passionate experts, you'll be initiated into the art of creating your own chocolate bar, a masterpiece you can be proud of.
In this captivating workshop, delve into the history of this gourmet wonder while understanding the intricacies of its creation. Step into the shoes of a true chocolatier by creating, under the guidance of professionals, your very own chocolate bar. Imagine the delight of your loved ones when you share your flavor-rich creations, infused with both taste and history.
Explore the fascinating world of chocolate, from its origin to its transformation into a delectable work of art. Embark on this sensory and educational journey, leaving the workshop not only with a beautifully crafted chocolate bar but also with in-depth knowledge and a renewed passion for this elixir of the gods.
Cook & Craft: Pastry and Art Workshops for Teens and Kids
Here's a unique experience for your young gourmets, combining art and cooking in our one-of-a-kind workshop. We know that children are passionate about both sweet treats and artistic creativity. That's why we've selected this original workshop for kids, skillfully combining these two passions.
Our program offers a perfect blend of kitchen moments, where kids dive into elaborate pastry workshops, and artistic moments where their imagination can express itself through drawing, painting, and other artistic techniques. Imagine your kids first busy preparing delicious sweet treats, then letting their creativity run wild to create unique artworks.
In a welcoming and stimulating environment, perfect for children to flourish in both art and pastry. Moreover, great importance has been placed on the quality of our ingredients. That's why the workshop will use 100% organic ingredients (butter, sugar, flour, eggs) to ensure results that are as delicious as they are wholesome.
We invite all children and teenagers aged 9 and above to join this extraordinary workshop. It's an experience that will awaken their senses, stimulate their creativity, and provide unforgettable family memories. Join us for this sweet and artistic adventure that will delight both young and old.
At-Home Pastry Workshops in Bordeaux and Gironde
Discover a unique culinary experience with our at-home pastry classes in Bordeaux and Gironde. Imagine learning the art of pastry in the comfort of your own kitchen, under the guidance of an experienced pastry chef. With us, each class is tailored to meet your desires and budget, offering you an exceptional opportunity to hone your pastry skills while enjoying personalized attention.
Dream of mastering colorful
macarons
, creating breathtaking multi-tiered cakes, or crafting fruit tarts worthy of a renowned
patisserie
? Our professional pastry chefs are here to guide you through every step of the process. They'll teach you the basics, essential tricks, and presentation secrets that will turn your creations into true culinary artworks.
Booking an at-home pastry chef is easy and convenient with Kweezine. Our online platform allows you to choose from a variety of talented chefs, browse their profiles and specialties, and select the one that best fits your expectations. You define the date, time, and preferences, and the chef comes to your place with all the necessary ingredients and equipment.
FAQ
What is Bordeaux's specialty in pastry?
Bordeaux is renowned for its delicious canelés, those small caramelized pastries with a crispy exterior and a soft interior. Canelés are an iconic specialty of the city and a must-try during your pastry classes.
How can I quickly offer a pastry class in Bordeaux?
Offering a pastry class is quick and easy. Simply provide a gift card for a pastry workshop in Bordeaux. The recipient can then book their preferred workshop at their convenience.
Can I take a pastry class in a real pastry shop in Bordeaux?
Yes, some pastry classes are often conducted in real pastry shops, giving participants an authentic experience of working in a professional pastry environment.
Can I learn to make viennoiseries or my own bread in cooking classes?
Absolutely, some cooking classes often include workshops dedicated to viennoiseries and bread-making. You'll have the opportunity to learn to create buttery croissants, fluffy brioches, and even knead your own artisanal
bread
.
Is it possible to make pastry for dessert in cooking classes?
Yes, many cooking classes offer dessert-making as part of their curriculum. This allows participants to learn not only main courses but also sweet treats to complete a meal.
If you're not only interested in pastry classes but also want to discover the best places to buy the finest pastries in Bordeaux, check out our blog article on the best patisseries in Bordeaux.
If you have a taste for savory dishes as well, take a look at our selection of the best cooking classes in Bordeaux.