Macarons are one of the most famous pastry in France. Kweezine help you to discover where to find the best places to taste a very good french macaron in Paris !
1) Pierre Hermé 
The reputation of those macarons is well established. Pierre Hermé invite you to discover his creations with a crunchy and unctuous shell and a tasty ganache with a strong taste. The Pierre Hermé macarons give us the opportunity to discover new flavors and interesting flavors associations.
2) Ladurée
The Ladurée macarons reputation dates back to the last century. However, this macaron's house was able to keep this reputation thanks to an unmatched macarons recipe combining a crunchy almond shell to a gourmet and mellow as wishes ganache.
3) Cyril Lignac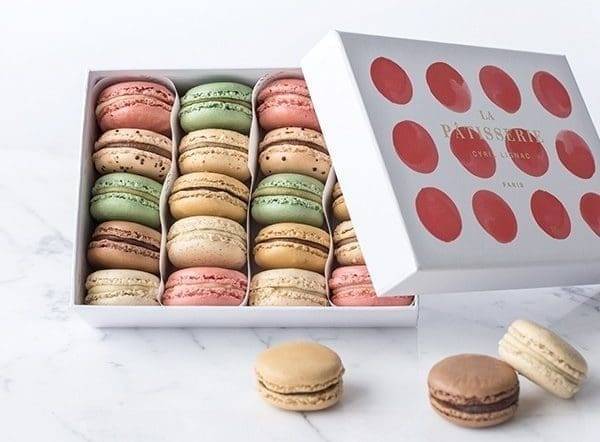 Those macarons are entirely made with French products. Their shell and texture are well balanced in terms of texture and flavor.
4) Café Pouchkine
The Café Pouchkine macarons are the interesting promise of crispy macaron's shells and a soft ganache that looks almost liquid, an undeniable balance in mouth. Concerning the different flavors proposed, their taste is very powerful.
5) Pierre Marcolini
Above all, Pierre Marcolini is a Belgian chocolatier master and a world baking champion. He decided to launch a range of macarons for the grand delight of greedy persons. The Pierre Marcolini macarons are generous, light and particularly gourmet, including his chocolate macarons creations that are to taste without waiting.
6) Hugo & Victor
Hugo & Victor and especially Hugues Pouget, offers unique macarons that contains any additives or dyes products. Indeed, the coloring of the macarons is mainly made with fruits, vegetables and spices powders. However, the taste of those macarons is not neglected. It is simple but marked and their taste is totally recognizable.
7) Jean Paul Hévin
This Meilleur Ouvrier de France offers you exceptional chocolate macarons. We continue to talk about it and the reason is that they are worked so that we can feel each of the subtle aromas of the different chocolate used for their making.
8) Dominique Saibron
Those macarons are made with natural dyes, fruits puree and Valrhona chocolate. A sweet balance in the mouth to discover with an unbeatable quality-price ratio.
9) Arnaud Larher
Those macarons look fairly standard. They have a crispy shell and an abundant ganache and this Meilleur Ouvrier de France has distinguished itself with the level of the different tastes proposed which continue to surprise us.
10) Sébastien Degardin
Sébastien Degardin launched his own speciality : the "Maronis", inspired from the traditional macarons. This unique pastry offers a soft and slightly crunchy almond-base biscuit. They are filled with an unctuous, light and delicate cream that will delight your taste buds despite a less elegant appearance than our famous macarons !
Find  the best Macarons class in Paris to become an expert in making delicious macarons on Kweezine !