A wine tasting like no other
Discover ComplanTerra, our new partner wine cellar, wine bar specialized in organic, biodynamic and natural wines during a wine tasting or a simple glass with friends. Meet us at 42 Rue Sainte-Colombe in Bordeaux to buy a bottle, have a glass or participate in a wine tasting of certified organic wines respecting man and nature. Note that organic charcuterie/cheese boards are available to accompany your wines.
About this environmentally friendly wine cellar from Bordeaux
ComplanTerra, a mix of Complantation: the art of mixing different grape varieties within the same plot, and Terra referring to the earth, is an idea of Romain and Sacha, both graduates in wine business and highly aware of environmental issues, who decided to have their own business. The goal of ComplanTerra is to make everyone aware of the environment through organic, biodynamic and natural wines, which are not yet sufficiently represented. For ComplanTerra, organic wines are the future of viticulture and they want to change the image that many have of organic wines by showing that today they can be more than similar in taste and appearance to traditional wines. These more sustainable methods of cultivation and vinification guarantee the wine an organic certification but also an authentic taste and a real respect for the terroir.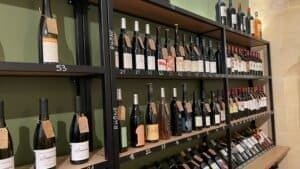 Understanding the differences between organic, biodynamic and natural wines
ComplanTerra offers 3 kinds of wines, organic wines, biodynamic wines and natural wines. Discover their differences!
Organic wines:
To produce an organic wine, the vineyard needs a conversion period of 3 years without chemical products, this period allows to purify the soils. The production must also go through this conversion period so that during the controls for obtaining the BIO label, which guarantees that no chemicals or fungicides are used on the wine, the farm complies with the necessary ecological and sustainable demands. Following this obtaining, only organic inputs are allowed.
Biodynamic wines:
They follow the same basis as organic wines but the winegrowers go further in their approaches and wish to give more vivacity to their soil by creating a more important ecosystem because the micro-organisms allow the roots to go deeper into the soil and thus to fully seek the water they need. Biodynamic wines can only receive completely natural plant-based treatments.
Natural wines:
Natural wines have no inputs and no human modification on the grapes, so the wine is simply fermented grape juice with sometimes a very limited addition of sulfur.
A tasting of carefully selected organic, biodynamic and natural wines
The tastings at ComplanTerra are led by Sacha, who is also the host of the Cité du Vin's tasting workshop. She will present you with organic wines that she has selected and tasted directly at the winemakers' before integrating them into her cellar to ensure the quality of the wines.
You will be able to attend 2 different ORGANIC wine tasting courses open to all without any knowledge level required: the first one entitled "Signature ComplanTerra" for those who want to understand the differences between conventional wines and organic, biodynamic and natural wines. Discover 4 wines from different regions of France to understand how soil and technique impact the taste of wine.
The second course "100% Bordeaux" focuses on the explanation of the Bordeaux vineyards, the appellations, the historical classifications of Bordeaux wines. We taste 4 Bordeaux wines, always respecting the ComplanTerra dynamic with organic wines.
Discover soon a new playful course covering the basics of wine tasting and how red, rosé and white wine is made, adapted to all the curious.
You will soon find the organic wine tasting courses with Sacha on Kweezine.com. In the meantime, all our guide articles are here.