Which Parisian food tour to choose ? The Kweezine team guides you
We all know that France is not the same without its important culinary culture. Between emblematic dishes, renowned wines or even signature pastries, it's guaranteed gourmandise. What better place than Paris, known for its diversity, its emblematic neighborhoods and its many culinary specialties, for a complete and unique food tour to discover the richness of French gastronomy. Grab your most comfortable shoes and get ready to discover the restaurants, bars and stores of the Latin Quarter, Montmartre or the Marais as you've never seen them before.
Not sure where to start? Let the Kweezine team guide you through the recommendations and discover local artisans and producers or renowned chefs for your culinary experience.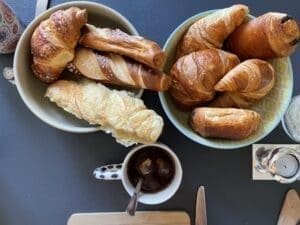 Where to find your favorite culinary specialties?
The Latin Quarter, a district renowned for its culinary richness:
A picturesque neighborhood greatly influenced by its history, its many students and bookstores, it offers us a spicy stroll passing by the Pantheon, the Sorbonne or the Shakespeare and Company bookstore.
To find your best bottles of wine, nothing better than Le Vin qui parle, Boulevard Saint Germain. Wines, champagnes and spirits are carefully selected from the estates of independent winegrowers to help you discover or rediscover classic or new spirits. The quality/price ratio is at the rendez-vous.
You are probably wondering where to find the best macaroons in Paris? You'll find them at Pierre Hermé's, the pastry chef and chocolate maker named "best pastry chef in the world" in 2016, on Boulevard Saint Germain. Traditional or more exotic flavors will delight every macaroon lover, individually or in boxes, choose your favorites. (Boxes from 13€ to 110€).
Le Marais, the sweet paradise:
Right in the center of Paris, enjoy the richness and diversity of the Marais, a neighborhood where you feel good about living and eating French. Indeed, pastry shops, bakeries, macaroons or even chocolates are the most common specialties in this environment where sugar lovers will feel at home.
But first, a stop at the red children's market on rue de Bretagne is a must to enjoy a good glass of wine accompanied by a cheese board directly from the producer.
Continuing on this street, you will find the little shop Scoop me a cookie, one of the best soft, melting and greedy cookies you can eat in Paris (cookie between 2€ and 4,20€).
How to continue in the Marais without passing by the Pralus chocolate shop on rue Rambuteau? This master chocolatier proposes you pure origin chocolates but also the famous brioches with praline (Lyonnaise speciality) to eat without hunger.
Montmartre, a hill of greed:
Just before going to the romantic Montmartre, a stop on rue des Martyrs at Comptoir Belge, a master waffle maker, is recommended for superb Liège waffles made before your eyes (between 3€ and 5€).
Then, at the foot of the Sacré Coeur, you will find the Rozell Café creperie, rue la Vieuville, which offers healthy and tasty crepes and galettes at reasonable prices in a simple and intimate atmosphere. Don't hesitate to ask for a gluten-free option (between 9€ and 14,90€ for a galette).
Finally, Pierre Gay, best apprentice of France will be delighted to welcome you to MONBLEU, his cheese factory Faubourg Montmartre for a discovery of all his cheese varieties. Why not be tempted by a tasting tray and a bottle of wine (Tray between 14,90€ and 59€)
When is your food tour?
The food tour experience allows you to discover the best local culinary addresses with artisans who share their experience in a wide variety of offerings. You will have a total immersion in the French and Parisian cuisine thanks to the visits you make during this food tour but also a new culinary learning surrounded by people sharing the same passion for the discovery of the cuisine.
We hope that the Kweezine team's advice will make you want to discover the city and the best Parisian dishes!
Find other good addresses in Paris right here.
FAQ :
1. How long does a food tour in Paris last?
The time required for a food tour in Paris generally varies between 2 and 4 hours.
2. How much does a food tour in Paris cost?
Prices for food tours in Paris vary depending on the duration and activities included. Prices can vary between 40€ and 100€ per person.
3. Are food tours in Paris suitable for people with dietary restrictions?
It is possible to find food tours in Paris that are suitable for people with dietary restrictions such as vegan, vegetarian, gluten free, etc. It is important to check with the tour operator to see if the tour is suitable for people with dietary restrictions. It is important to check with the tour organizer before booking if you have any dietary restrictions.
4. Are the food tours in Paris child friendly?
Yes, there are food tours in Paris that are suitable for children. It is important to check with the tour organizer before booking to see if it is suitable for children.
5. Are the food tours in Paris adapted for people with reduced mobility?
There are food tours in Paris that are suitable for people with limited mobility, just check with the tour provider before booking.