"Where are we going for brunch ?" No more Sunday morning headaches !
Kweezine brings you its selection of Bordeaux brunches to help you find "THE place to Brunch" for next Sunday 😉
From traditional to gourmet to vegetarian, there's something for everyone !
The Juliena brunch, the most cozy and complete 
One of our favorites. Right in the heart of Chartrons and on Rue Notre Dame, Le Juliena offers a complete brunch that guarantees excellent value for money. The Juliena's proposal is reassuringly gourmet, with bacon croissant and scrambled eggs, avocado salad, delicious homemade pancakes and a Granola Bowl (muesli, fruit and fromage blanc).
The restaurant also provides a wide selection of beverages to enhance your brunch experience. Choose from refreshing juices or treat yourself to their fine assortment of coffees and teas. Whether you're a coffee aficionado or a tea lover, Juliena has something to satisfy your taste buds.
If you're looking for a succulent, refined weekday brunch, this is the place for you. With its cosy atmosphere and meticulous decor, this establishment is sure to delight even the most discriminating taste buds.
👛 22€ and bookable on the Kweezine website : https://kweezine.com/event/brunch-d-exception-a-bordeaux
❤️
Benefits : 
Value for money, especially in the neighborhood,
Fresh produce and sweets to die for,
An excellent selection of teas,
You'll love the Swedish decor and large glass roofs, which add a real touch of cachet to the establishment.
📍
I'm going : 
15 Rue Notre Dame, 33000 Bordeaux
Les Sauvages,
the most bohemian 
Looking for a brunch spot that will truly make you enjoy your weekend? Look no further than Les Sauvages, the ultimate destination for brunch. Les Sauvages has two addresses in Bordeaux, one in the Chartrons district and the other in the Pey-Berland district. And it's clear that they've quickly made a name for themselves ! The reason ? Original recipes from all over the world.
Brunch is served here every Sunday and on public holidays. The two formulas on offer allow everyone to choose what suits them best, depending on their mood of the day : a little salty hungry at 17€ – 1 savory dish + 1 drink of choice, sweet hunger and 1 drink of choice at 15€ and the hungry version at 28€ – 1 dish + sweet + 1 savory dish + 1 hot drink + 1 cold drink. All dishes are homemade with local, seasonal produce.
You'll have a wide choice of savory dishes : burgers, pita breads and lentil Dahl for vegetarians in particular. However, our personal favorite is the mouthwatering savory waffles. If you have a weakness for sweets, you're in for a treat ! They propose Chaï, pancakes, rolls and cheesecakes to die for.
👛 15€, 17€ et 28€
❤️
Benefits : 
We love the bohemian decor, which makes you want to spend the whole day in the restaurant.
Very welcoming staff
One of the best and most Instagrammable restaurants in town
Delicious, well-balanced brunch
📍
I'm going : 
7 Rue des Frères Bonie, 33000 Bordeaux
Le Gabriel, the gastronomic experience
If you're looking for an exceptional brunch in Bordeaux, look no further ! Every Sunday, the Bistrot du Gabriel on Place de la Bourse opens its doors to you offer a gastronomic all-you-can-eat buffet that guarantees an exceptional culinary experience. Alexandre Baumard, the restaurant's Michelin-starred chef, offers a selection of delicate dishes that will delight lovers of seafood, truffles, salmon gravlax, foie gras, and not forgetting veloutés, mashed potatoes, stuffed poultry or leg of lamb. Le Gabriel has a delectable array of pastries, fruits, panacottas, honey financiers, lemon cakes, and custards that are sure to satisfy your cravings. With an emphasis on fresh, high-quality ingredients, Le Gabriel delivers a dining experience that exceeds expectations.
But Le Gabriel isn't just for gourmets ! Children are more than welcome, and they have a dedicated play area where they can have fun while you enjoy your meal. With weekly activities like face-painting workshops and circus activities, the little ones will have a memorable time too.
👛 69 € / person, every Sunday from 11:30 a.m to 3:30 p.m
❤️
Benefits : 
Chic, uncluttered decor
Very welcoming staff
An ultra-premium address with exceptional food
Menu proposed by talented Michelin-starred chef Alexandre Baumard
📍
I'm going : 
10 place de la Bourse, 33000 Bordeaux
Djawa, the Bali brunch
Looking for a Sunday brunch that's a little out of the ordinary ? Are you fed up with classic menus such as pancakes, waffles, avocado salad and so on ? Look no further ! Djawa invites you to discover its Balinese brunch in a chill, tropical atmosphere. For just 25€, you can enjoy delicious rice with coconut milk, mango, granola and pomegranate, as well as a soft banana bread topped with crushed peanuts and a generous caramel topping.
If you prefer savory delights, fear not ! Djawa has you covered with their fried rice accompanied by crispy vegetables and a perfectly fried egg. This brunch will surely please both sweet and savory lovers alike.
To accompany your tasting, you'll have a wide variety of hot drinks, including teas and coffees, as well as smooth chai lattes and sweet and spicy golden milk lattes. And for a more detoxifying option, you can opt for a timed organic juice blend.
But that's not all ! For just 39€, you can opt for THE "bottomless cocktails". Indulge in unlimited cocktails from a carefully crafted selection of four different options. Among our favorites are the Bali Tonic Cinta, featuring pomegranate puree, Brecon gin, lime, and organic tonic, and the Sentani, a delightful blend of Zoladkova vodka, apple juice, lychee, and lime.
At Djawa, you'll find the best Balinese brunch experience in Bordeaux.
👛 Formule at 25€ and 39€ (bottomless)
❤️
Benefits : 
Trendy, original decor
A wide and varied range of cocktails
Fresh and delicious dishes
📍
I'm going : 
12 rue des remparts – 33000 Bordeaux
Radisson Blu, the roof-top Sunday Break
Are you looking for brunch, but also THE place to chill out and sip fresh fruit juices in Bordeaux ? Then head for the Radisson Blu, a hotel located in the Bassins à flot district. On Sundays, when the weather's fine, we recommend a visit to the rooftop terrace to admire the breathtaking view.
The restaurant offers an all-you-can-eat menu, inviting you to explore the various areas and islands of the buffet, which features a variety of sweet and savory products. You'll be able to compose a plate of crudités with different accompaniments, sample viennoiseries and breads, enjoy cheese, foie gras and charcuterie. And for seafood lovers, an island of oysters and shrimps will be available.
On the sweet side, two areas offer a variety of pastries and mignardises, fresh fruit, pancakes and crepes to accompany jams, coulis or spreads. The juice bar lets you create tasty smoothies and enjoy unlimited hot drinks. Weather permitting, there's even a grill stand to satisfy even the most demanding meat-eaters !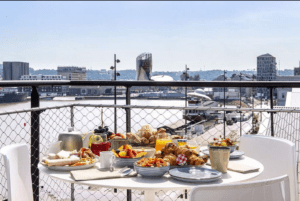 👛 All-you-can-eat brunch at 39€ / person
❤️
Benefits : 
The terrace with its 360° view of the Bassin à flot
All-you-can-eat gourmet menu
Very welcoming staff
Wide and varied choice
Buffet with ultra-fresh produce
Ideal for a family moment with children
📍
I'm going : 
Les docks – 63 rue Lucien Faure, 33000 Bordeaux
Contrast, the most Instagramable and vegan-friendly brunch
At Contrast in Bordeaux, you'll find a trendy, well-balanced, 100% homemade menu to delight you every day of the week from 10am. And yes, Contrast isn't just for weekends, so there's something for everyone ! What we like best here is the possibility of choosing a vegan menu. Menus include a choice of savory and sweet dishes, as well as a granola bowl accompanied by a hot and cold drink. Prices range from 25€ to 28€. For the record, we fell in love with the French toast-style banana bread! Contrast is all about carefully selected raw materials and carefully chosen suppliers, which explains the freshness and quality of the products you'll find on your plate. Expect a colorful, healthy, aesthetic, tasty and generous brunch – a real treat ! Please note that Contrast does not take reservations and, victim of its own success, is often overbooked. A word of advice : it's best to get up early. If you'd like to try it too, head for the Place de la Bourse in Bordeaux !
👛 25€ / person (classic menu) and 28€ / person (vegan menu)
❤️
Benefits : 
We love the bohemian decor, which makes you want to spend the whole day in the restaurant.
Balanced, gourmet menu
One of Bordeaux's most Instagrammable brunches
Fresh, gourmet dishes
📍
I'm going : 
16 cours du Chapeau Rouge, 33000 Bordeaux
Tupaq, the Peruvian version of brunch
Tupaq invites you to a colorful and tasty culinary experience inspired by Peruvian gastronomy. Right in the heart of the "Grosse Cloche" district in Bordeaux, Tupaq is an address to check in your notebook if you want the best Sunday experience off the beaten track.
On the menu, you'll enjoy delicious dishes such as Pan con chicharron (Huche bread), served with ribs that are golden on the outside and juicy on the inside, onions, coriander and lemon. You can also enjoy Avocado toast on country bread with lime, tomatoes, pink radishes and chia, as well as patatas bravas with chimichurri and an arugula solterito for a touch of freshness.
On the sweet side, don't miss their fromage blanc with walnut muesli and seasonal fruits, and finish your meal in style with their famous Carrot cake and its Guayaquil 70% chocolate coulis.
To accompany your meal, you can enjoy a maracuya juice or chicha morada, as well as unlimited coffee. And for those with special dietary requirements, Tupaq also offers a vegetarian option and a children's menu for younger guests.
👛 23€ / person
❤️
Benefits : 
Peruvian cuisine at its best
Surprising and original tastes
Smiling staff
📍
I'm going : 
Place de la Ferme Richemont, 33000 Bordeaux
She and him, the American-French coffeehouse
Near the Place des Grands Hommes in Bordeaux, the She and Him restaurant offers a delicious brunch. A 100% homemade menu available at weekends. We were delighted to see that a children's menu was also available for 14€. On the sweet side, the classic 24€ menu includes a bowl of your choice, a brioche perdue finger with maple syrup and a madeleine of the moment. On the savory side, scrambled eggs, a cheese muffin and a choice of toast are present to our delight. Fresh orange juice and your choice of beverage are served on the side. An exotic address, with a Miami Beach feel, to take us out of our Bordeaux cool. Don't hesitate to try the mille-crêpes matcha, chocolate or vanilla, the house signature crêpe cake !
👛 26€ / person, children 14€ / person
❤️
Benefits : 
Beautiful presentation
Neat and pleasant establishment
📍
I'm going : 
24 Rue Huguerie, 33000 Bordeaux
Octavie's, Marie Antoinette's royal brunch
As soon as you walk through the door of this restaurant on rue du Palais Gallien in Bordeaux, you'll be transported to the majestic salons of Queen Marie Antoinette's palace, where afternoon tea and weekday brunch reign supreme. The sumptuous floral tapestries, gleaming gilding and elegant furnishings are sure to delight.
But the real fun begins with Najat's irresistible homemade pastries : mille trous pancakes with maple syrup, gazelle horns with almond powder and exotic fruit tarts. Brunch is a veritable feast, with a wide variety of refined dishes with an international flavour. On the savory side, you'll be treated to gourmet dishes such as foie gras macarons with 4 spices, or the unmissable scrambled eggs with Serrano ham.
And that's not all ! You can accompany all these delicious dishes with unlimited coffee, tea and rooibos from Maison Nina's Marie Antoinette. All in a royal and elegant setting that will transport you to another era. Don't miss this unique opportunity to brunch like a king or queen..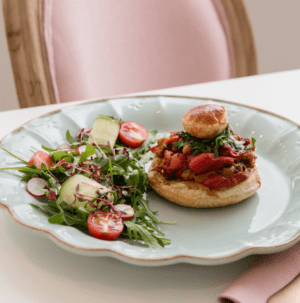 👛 29€ / person
❤️
Benefits : 
Truly original decor
Varied and original menus
Sweet proposals to die for
📍
I'm going : 
24 Rue du Palais Gallien, 33000 Bordeaux
Café Eriu, the Irish twist
Located next to the Jardin Public, this café with an Irish accent will take you on a journey during your Sunday brunch. In this unique and friendly atmosphere, we love to brunch for a reasonable price ! Their extremely gourmet offerings are available exclusively at weekends. At Café Eriu, you'll have a wide choice of Irish options. Eggs Benedict, Irish Breaky Waffle and buttermilk pancakes are all on offer. An original and enjoyable concept to share with friends, family or even colleagues !
👛 From 12€ / person
❤️
Benefits : 
A gourmet brunch without breaking the bank
Relaxed atmosphere
📍
I'm going : 
119 rue Fondaudège, 33000 Bordeaux
La collation, a temple for pancake lovers
Looking for a gourmet place to enjoy pancakes ? Discover La Collation's two addresses in Bordeaux. Whether savory or sweet, pancakes are the specialty of this concept that's sure to satisfy all gourmands !
Why limit yourself to Sunday brunch ? Léa and Emilien, both passionate about food and local produce, have created a place dedicated to their guilty pleasure : pancakes ! In their restaurant on Rue Guienne, close to the Grosse Cloche, you can enjoy original recipes made with local produce.
Every day except Thursday, La Collation offers two different formulas. The classic version includes a hot drink, an organic fruit juice, a choice of two savoury pancakes and a plate of sweet pancakes. Our favorite is the Bordeaux-Brest version, with its mousseline cream, homemade praline and roasted hazelnut chips !
👛 26€ / person, children's menu at 13€ / child. Small brunch during the week at 16€ / person
❤️
Benefits : 
The best homemade pancakes
Beautiful decoration
A wide choice of sweet and savoury pancakes
Fresh, seasonal products
📍
I'm going : 
5 rue de Guienne, 33000 Bordeaux
Mami Wata, the exotic version of brunch
Exit the classic brunch and make way for exotic flavors. Every Sunday, Mami Wata offers brunch for 16€, with fresh, quality ingredients sourced directly from the Capucins market. On the menu : a savory cassolette with yassa chicken skewers, accompanied by an egg-based specialty that varies according to the chef's mood. The sweet side includes fresh fruit, muesli and the dessert of the week. As for drinks, you'll find all the classics : coffee, tea, squeezed orange juice, glass of wine or beer.
👛 16€ / person
❤️
Benefits : 
A beautiful and original experience
A mix of flavors
📍
I'm going : 
25 Cours de l'Yser, 33000 Bordeaux
La cuisine de Camille, a gourmet concept based on solidarity
Here's a new proposition from Bordeaux, a stone's throw from the Capucins market. La cuisine de Camille is a culinary and solidarity-based third-place offering an original and gourmet solidarity brunch every Sunday. The principle is quite simple : for every two brunches ordered, a suspended brunch will be offered ! The principle is well known for coffee and bread, but this is the only place in Bordeaux to offer this initiative. Here, everything is 100% homemade, and the recipes change all the time because the chefs are never the same.
👛 From 17€ / person
❤️
Benefits : 
A mutually supportive concept to share and promote
Wide variety of choices depending on the Chefs in the kitchen
Vegetarian and local menus often featured
📍
I'm going : 
18 Rue de Bègles, 33000 Bordeaux
Books and Coffee, for coffee lovers
Located in the heart of Bordeaux's charming Rue St James, this friendly establishment is a must for all lovers of good vibes, conviviality and good coffee. The staff are always friendly and smiling, creating a warm atmosphere that instantly puts you at ease.
But it's not just the ambience that attracts customers in droves, it's also the quality of the services on offer, including their not-to-be-missed brunch, especially if you love coffee ! On the menu: bacon or salmon Rösti, sweet or savoury pancakes, organic granola and fresh fruit… If you like, you can also customize your own sandwiches or salads. And of course, Books & Coffee is also a coffee shop and roaster, offering a wide selection of hot drinks and specialty coffees !
👛 23€ / person
❤️
Benefits : 
Gourmet brunch
One of the finest selections of teas and coffees in Bordeaux
A warm atmosphere for a relaxing moment
📍
I'm going : 
26 rue Saint-James, 33000 Bordeaux
L'annexe de la salle à manger des Chartrons, a (very private) brunch for your events
Looking for a unique and atypical brunch in Bordeaux ? L'Annexe de la Salle à Manger des Chartrons is a private brunch concept proposed by Virginie, a talented chef who offers to open her table d'hôte for a private brunch for your special events such as birthdays, anniversaries, EVJFs, or simply to treat yourself with family and friends.
Privatization only for individuals and companies, you'll be amazed by this enchanting setting, where you can enjoy nature while tasting delicious cuisine. The menu will be entirely personalized according to your culinary preferences. Whether it's Southwestern, Italian, Lebanese or any other cuisine you desire, Virginie will use only the freshest, highest-quality ingredients to guarantee an exceptional culinary experience.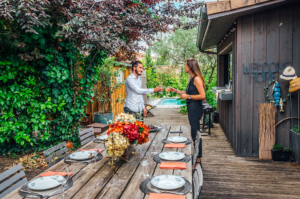 👛 Privatized service from 60€ / person (minimum 5 people) including privatization of the venue
❤️
Benefits : 
A unique setting
A tailor-made menu created by a talented chef
Virginie's kindness and professionalism
A warm atmosphere for a relaxing moment
📍
Réservations only on Kweezine : 
https://kweezine.com
Monkey Mood, a vegan explosion of flavors
Looking for a vegan or vegetarian brunch out of the ordinary ? Step through the door of this restaurant for an exotic vegan experience that skilfully fuses the flavors of Indonesia with traditional Western dishes. Nestled in the charming Saint-Michel district, Monkey Mood welcomes you in a warm decor with a small shaded terrace. The place is ideal for relaxing during the hot summer months. Enjoy a homemade brunch with spring rolls, Nasi Goreng (stir-fried rice with vegetables, mint and fried onions), delicious Green Pancakes and a tapioca bowl. Drinks are just as original, with Jamü Jamü (an Indonesian elixir with carrot juice and fresh turmeric) and an Indonesian-style hot latte. So, are you ready for an explosion of flavors in your mouth ?
👛 Menu at 21 € / person
❤️
Benefits :
A unique setting
A culinary voyage of discovery
Fresh, tasty products
The famous Balinese drinks
📍
I'm going : 
11 rue Camille Sauvageau, 33800 Bordeaux
La Cour de Nana, for lovers of Syrian cuisine
Are you looking for an original and exotic brunch ? Look no further than La Cour de Nana, the Syrian restaurant in the heart of the city, for an unforgettable taste experience. The brunch, served daily for just 21€, takes you on a journey with an assortment of mezzés, pita bread, a dish of the day, desserts and not forgetting the traditional tea and cold drink. For those in a hurry, a breakfast menu at 10.50€ or a lunch menu at 12.50€ are also available. In a warm and friendly setting, the back courtyard with its traditional fountain and soft Syrian music add a touch of charm to your experience. But what makes this place so special is founder Dima's commitment to solidarity, offering employment to refugee women to change mentalities and help them integrate.
👛 21€ / person (brunch), 10,50€ (breakfast), 12,50€ (lunch)
❤️
Benefits :
A warm, cosy space
A unique experience, not just culinary
A combination of gourmandise and social commitment
📍
I'm going : 
73 Cr Victor Hugo, 33000 Bordeaux
Suzzi Kafe, brunch with Scandinavian flavours
Discover the original Scandinavian brunch at Suzzi Kafe, one of the best brunches in the heart of Bordeaux. With its warm and cozy setting, the brunch served from Wednesday to Sunday for 25€, will transport you directly to Sweden with its Nordic tartines on brown bread called Smörgås such as Lax (homemade gravlax salmon, horseradish & chive cream) and Raggmunk (potato pancakes with bacon or in a vegan version). To accompany these dishes, enjoy homemade fruit yoghurt & granola, a Swedish sweet, and a hot, cold drink. Everything is homemade by Arvid, a talented young chef, using fresh produce to bring you unique flavors.
👛 Menu at 25€ / person
❤️
Benefits :
Scandinavian brunch with a difference
Warm, welcoming staff
A pleasant moment of relaxation
📍
I'm going : 
46 Rue des Trois-Conils – 33000 Bordeaux
Cèdre et vous, the perfect brunch for a taste journey
Located in the heart of the city, Cèdre et vous is a must-visit restaurant for brunches. Their specialty is to offer two versions of brunch : the "Lebanese Special" or the "French Traditional". Both menus offer a variety of flavors, with a wide selection of dishes to satisfy every appetite, whether you're feeling "peckish" (18€) or "hungry" (24€).
For fans of Lebanese cuisine, the "Petit creux" menu includes manaïch, homemade hommos, Lebanese pastries, a hot drink and a soft drink. For fans of French cuisine, the menu includes homemade viennoiserie, fruit salad, scrambled eggs with bacon and pain de mie, and a hot, cold drink. Whether you're looking for breakfast, snack, lunch or brunch, this is the place to be.
👛 18€ ou 24€ / person
❤️
Benefits :
Franco-Lebanese restaurant
A blend of origins and love
A moment of conviviality and sharing
📍
I'm going : 
2 Bis Rue de Cursol, 33000 Bordeaux
Roze Kitchen Bordeaux, a refined and elegant brunch
If you're looking for a must-visit address in the Saint-Michel district, Roze Kitchen is the place to go. This establishment is a veritable call to delicacy, tenderness and modernity, where every recipe is cooked with care and refinement.
Their brunch menu is a real favorite! For just 25€, you can enjoy a hot drink of your choice, a squeezed orange juice or a juice of the moment, a Bunk Pink (with burrata, fried chicken or avocado and soft-boiled egg) and a pastry of your choice. All dishes are made with fresh, seasonal produce to ensure impeccable taste quality. The color pink is also a constant, adding a touch of poetry to every dish. You can enjoy their brunch formula every Sunday and from Monday to Friday for a delicious lunch.
👛 25€ / person
❤️
Benefits :
An elegant and refined setting
Seasonal produce
A family affair
📍
I'm going : 
45 Quai Richelieu, 33000 Bordeaux