Big beer drinker, would you like to know about craft breweries in Paris and its surroundings? No worries, Kweezine has found the 10 best ones for you!
1 – La Parisienne
It's through his many travels that Jean Barthélémy Chancel discovered a passion for craft beer. Disappointed by what was already on the market and in search of renewal, he created his first craft microbrewery in 2011: the Brasserie Artisanale du Luberon. Then in 2014, La Parisienne is born. Brewed and bottled in the Grand Paris, 3 ranges are proposed: the classics, the organic classics and the specials.
©Facebook/brasserielaparisienne/
I GO
La Parisienne
29 rue Cartier Bresson 93500 PANTIN
09.52.34.94.69
2 – La Goutte d'or
A pioneer of the craft movement in Paris and influenced by the 18th arrondissement where it's located, the Goutte d'Or offers 4 different types of beer inspired by this district in 50 cl format. Red, blond or amber beers and even IPA are to be found in this micro-brewery.
©Google/arijitsarkar
I GO 
La Goutte d'or
28 rue de la goutte d'or 75018 PARIS
09.80.64.23.51
3 – BapBap
Archibald Troppes and Edouard Minart, childhood friends, opened in 2015, BapBap, a brewery 100% made in Paris. From grain crushing to bottling, it's in this brewery of more than 1500m2 located in the 11th arrondissement that their beers are made. More than a dozen varieties are bottled there, including permanent beers such as the Originale (Pale Ale), the Blanc Bec (wheat beer), the Vertigo (IPA), the Toast (brune Porter), or the Poids Plume (session pale ale) as well as ephemeral beers available according to season.
©Facebook/bapbapbiere/
I GO
BapBap
79 rue Saint-Maur 75011 PARIS
01.77.17.52.97
4 – Deck & Donohue
This brewery bears the surnames of Thomas and Mike, two beer lovers for many years.  A wide range of beers are brewed in Bonneuil-sur-Marne in order to explore the richness and diversity that this universe offers. Since May 2019, all their beers in the permanent range are certified ORGANIC.
©Facebook/deckdonohu/
I GO
Deck & Donohue
1 avenue des marronniers 94380 BONNEUIL-SUR-MARNE
01.43.77.96.84
5 – Parisis
The first beer from Eric and Jonathan's Parisis brewery was born on August 8, 2012. Since then, the brewery has continued to grow and increase its production. Parisis is 3 categories of beers: the classics with 4 beers, the specials with 5 beers including 3 IPA and finally the limited beers with a double IPA with local flavours.
©Parisis
I GO
Parisis
34 rue de la foret, local K 91860 EPINAY SOUS SENART
01.60.46.62.33
6 – Demory Paris
The history of the house of Demory goes back to the 19th century when Paris was the epicentre of beer in Europe before disappearing in the 1950s due to the monopoly of the large brewery groups. But it is reborn from its ashes in 2009 thanks to the "Craft Beer Movement" promoted by the United States. Since Demory Paris is one of the best known and wants to become THE beer of Parisians. Today the brewery is located in Bobigny and has a dozen different beers.
©Facebook/Demoryparis/
I GO
Demory Paris
1 rue de Paris 93000 BOBIGNY
09.81.12.53.06
7 – La Baleine
La baleine is 9 varieties of unfiltered, unpasteurized and pure malt beers available in 33cl or in draught, brewed by hand in order to offer us authentic products. La baleine is also a variety of beers, each one as surprising as the next, mixing cereals, fruits, spices, flowers…
©Télérama
I GO
La baleine
17 rue Henri Duvernois 75020 PARIS
06.60.99.65.22
8 – Brasserie du Grand Paris
The brewers of Greater Paris take us on a journey with their beers brewed in Levallois. The program includes 8 permanent beers with a rather varied taste and many limited editions through collaborations with for example Dry & Bitter, Larkin's Brewing Co, Hoppy Corner…
I GO
Brasserie du Grand Paris
103 rue Charles Michels, Parc Saint-Denis Pleyel, Bâtiment C, 93200 SAINT-DENIS
06.63.24.62.88
9 – La Montreuilloise
La Montreuilloise is a factory of artisanal beers, brazed in Montreuil and made according to the Anglo-Saxon method of top fermentation (Pale Ale), in single-strength all grain infusion. In total La Montreuilloise has 10 permanent beers and others according to the season. They are all under the label "Nature et Progrès" which guarantees the origin of the raw materials, the conditions of production but also of distribution, all this with the aim of respecting the environment.
©Facebook/montreuilloise/
I GO
La Montreuilloise
97 rue Pierre de Montreuil 93100 MONTREUIL
06.81.22.65.87
10 – Brasserie de l'Être
Through its 12 different varieties of hops, the Brasserie de l'Être offers you 7 beers all under the label "Nature et Progrès" but also under that of Organic Agriculture. In addition to being conscious and committed, Loic and Edward, master brewers, favour short circuits and the local area for the making of their beers.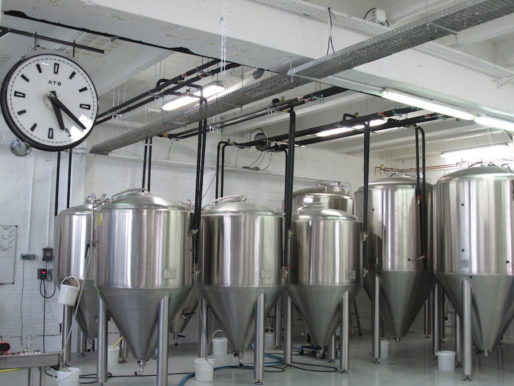 ©brasseriedeletre
I GO
Brasserie de l'Être
7 ter rue Duvergier 75019 PARIS
01.40.16.56.62
How about becoming a beer brewer for a day?
In addition to mastering the art of brewing, you will leave with your own homemade beer made by you.
Visit Kweezine.com to book your workshop!